Doggy Day Camp at AnimaLodge Pet Resort is the perfect way to make sure your dog gets the exercise, socialization, and mental stimulation, he or she deserves when your busy schedule doesn't allow you to spend the time you would like with your four-legged friend.
Our facility has a spacious, climate-controlled indoor play room as well as large secure, outdoor play areas. Guests are separated into groups according to playstyle and temperament and are constantly supervised by our knowledgeable, trained staff. We have separate play groups for smaller dogs and puppies too!
We recognize that every dog is different and finds pleasure in different activities. Therefore we include enriching activities and games for our day camp guests. These activities are focused on creating a more mentally stimulating environment, thus adding value to their experience. Canine enrichment is for all dogs, no matter age, breed, or activity level. It will challenge your dog to use his/her nose and brain more. Not only do these activities and games improve your dog's emotional wellness, they also release stress and anxiety, while tiring them out. This results in a happier dog….and a calmer household.
Our enrichment activities include scent work, brain games, stuffed Kong toys, snuffle mats and even private one-on-one playtime. This is something we highly recommend your dog participates in during their lodging stay.
Some of these activities are included in our day camp fee while others are options that can be added.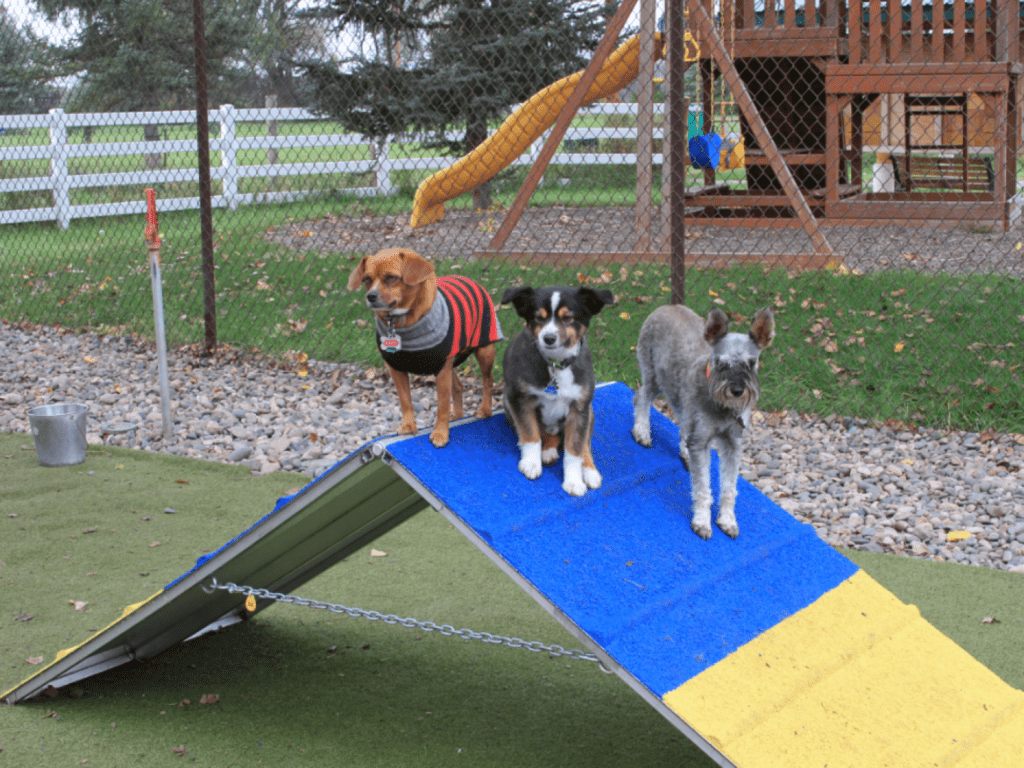 Day Camp is available for walk-ins as well as our lodging guests. We are open 7:00am- 7:00pm Monday through Friday and Saturdays from 8:00am – 2:00 pm. No reservation is necessary for walk-in daycamp guests. Day Camp is available on Sundays and holidays for lodging guests only.
Be sure to ask for Day Camp when making your lodging reservations.
To ensure the safety of your pet and others, each participant is temperament tested to determine their compatibility in group play. Males over six months who are not neutered and females who are in heat may not participate. If you would like to enroll your pet in Day camp for the first time, please call 406-628-7311 today to schedule an evaluation.
For guests who are not eligible to participate in off-leash group play, we offer day lodging with individual play times.
Rates:
Day Camp Full Day $ 24.00
Day Camp Half Day (5hours or less) $15.00
Stuffed Kong $2.50
Lunch on a Snuffle Mat $3.00
Day Lodging with individual playtimes$30.00
Daycamp Packages:
Purchase 10 Full day passes for $215.00 ($20.00 savings)
Purchase 10 Half day passes for $135.00 ($15.00 savings)
Purchase 20 Full day passes for $400.00
Purchase 20 Half day passes for $250.00