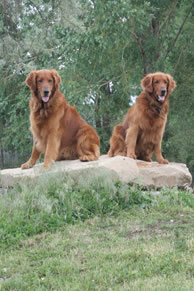 Spend Time With Your Fur-Baby in Laurel, MT, Without All the Noise
Take a look at Happy Tails Dog Park at Animalodge Pet Resort
You will find our Happy Tails Dog Park the perfect place to bring your dog for a walk or a run without having to worry about traffic or common city distractions. Your pet is free to roam as he pleases and you get your exercise too!

Happy Tails dog park is for the public. You may jog, walk, play Frisbee, or just enjoy your dog. It is also a popular place for dog trials, shows and family events.

Happy Tails Dog Park is $1 per dog per visit with other options, including:

Monthly pass, $15.00
6 Months pass, $75.00
Annual pass, $125.00
While at Happy Tails Dog Park please remember that owners are responsible for the actions of their dogs, and animals must be properly vaccinated and not in season. Also at Happy Tails Dog Park:
All dogs must be on a leash while entering the park.
All dogs are to be accompanied by a handler who is at least 16 years of age.
Dogs with a history of aggressive behavior must wear a muzzle.
Owners are responsible and liable for actions and behavior of their dogs at all times.
Dogs must be properly inoculated and not in heat in order to use the facility.
Choke pinch (prong) and spike collars must be removed prior to entering the enclosure. A basic flat buckle collar with license, rabies and identification tags attached is recommended.
Owners/handlers are responsible for picking up feces, hair and toys or other articles brought into the park.
For the safety of all guests, please be sure to close the gates.
If you've been searching for a great place to spend time with your fur-baby, come to Happy Tails Dog Park in Laurel, MT, today.